When it comes to travel, being a trendsetter isn't just about stylish clothing; it's also about adding those perfect finishing touches to elevate your look. Accessories are the key to achieving a polished and sophisticated appearance while on the go. Whether your jet-setting for a business trip or embarking on a leisurely vacation, three must-have items that can effortlessly transform your outfit are cufflinks, lapel pins, and collar tips. These timeless and versatile accessories not only show off your attention to detail but also reflect your unique style and personality.
 1. Cufflinks: A Touch of Elegance Cufflinks have long been associated with elegance and refinement. These small accessories are designed to secure the cuffs of a dress shirt and are typically worn in more formal settings. However, modern fashion trends have seen cufflinks becoming more versatile and suitable for a wide range of occasions, including travel.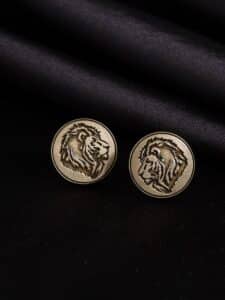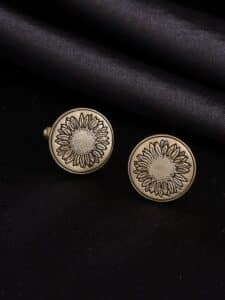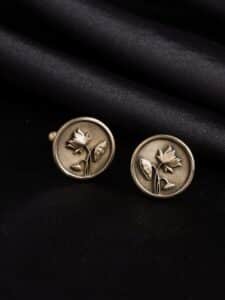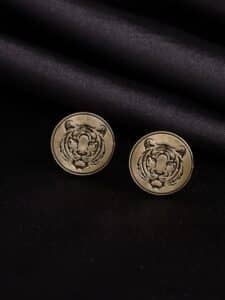 For the modern trendsetters, a collection of cufflinks is a must. Opt for classic designs, such as silver or gold, to ensure they match any outfit. From sophisticated round shapes to quirky novelty designs, there is a cufflink for every taste and style. When traveling for business, a pair of understated and elegant cufflinks can instantly elevate your professional look. On the other hand, fun and creative cufflinks can add a playful touch to your evening attire during leisure travel.
2. Lapel Pins: Expressing Individuality Lapel pins are a fantastic way to add a touch of individuality and personality to your travel wardrobe. These small accessories are worn on the lapel of a suit or blazer and come in various designs, ranging from floral patterns to pins featuring design and sometimes even the initials.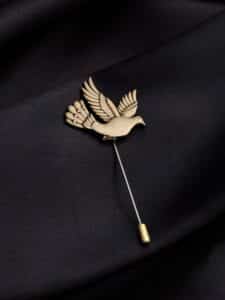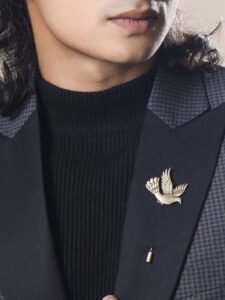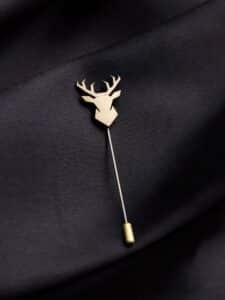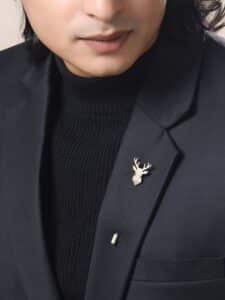 When selecting lapel pins for your travels, consider the occasion and your personal style. For formal events or business meetings, opt for sleek and subtle designs that complement your overall look. On the other hand, if you're attending a casual event or exploring a vibrant city, a more expressive lapel pin can serve as a great conversation starter and showcase your interests and passions.
3. Collar Tips: Nailing the Attention to Detail Collar tips, also known as collar pins, are an often-overlooked accessory that can make a significant impact on your overall appearance. These small metal bars are designed to hold the two ends of a shirt's collar together, resulting in a refined and polished look. Collar tips come in various designs, from classic bars to more intricate and decorative shapes. To achieve a timeless and sophisticated look while traveling, choose collar tips in silver or gold tones, which can easily complement any shirt color. They work particularly well with shirts worn without ties, adding a touch of flair and individuality to your outfit.

Tips for Traveling with Accessories:
 

Organization is Key:

Invest in a travel

case or pouch specifically designed for accessories to keep them safe and

well-organized during your journeys.

 

Keep it Versatile:

opt for accessories that can be mixed and matched with multiple outfits, ensuring you get the most out of your travel wardrobe.

Consider the Occasion: Choose accessories that are appropriate for both formal and casual occasions to ensure your prepared for any event.

 

Pack with Care: Avoid throwing your

accessories haphazardly into your luggage. Instead, wrap them in soft fabric or

pouches to prevent scratches and damage.

 

Express 
Yourself: Don't be afraid to 

showcase your personality through your accessory choices. Let them tell a story 

about who you are and what you love.
In conclusion, accessorizing with cufflinks, lapel pins, and collar tips can take your travel style to a whole new level. These small yet impactful details can express your individuality, showcase your attention to detail, and elevate your look from ordinary to extraordinary. So, the next time you embark on a journey, make sure to pack these must-have items for the modern trendsetter and get ready to turn heads wherever you go!